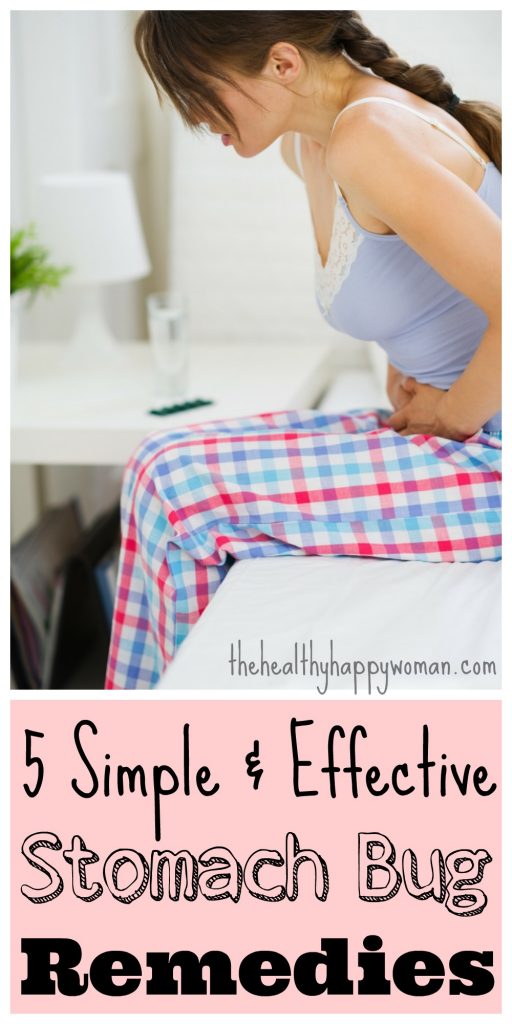 Today's post is definitely one you'll want to pin or bookmark for future reference (or perhaps you need this info right now!) There are not many things much worse than coming down with a stomach bug.  And we've all had to deal with one at some point.
Stomach bugs can be contracted easily from one person to the next.  It can also spread quickly, which is why having a prevention and treatment plan in place is a must!
Today I want to share with you 5 simple and effective remedies against stomach bugs.  These remedies will not only help treat a stomach bug, but they will also help prevent getting it in the first place.
1) Probiotics
Probiotics are your first line of defense for whatever stomach bug or 'virus du jour' happens to be going around.  Probiotics help to populate your gut with good bacteria, creating an unfriendly environment for the bad bacteria.  They are one of the best preventative supplements to bolster your immune system.  I consider probiotics to be one of the foundational four supplements you should be taking all year long.  Look for brands that contain a variety of bacterial strains such as:
Lactobacillus

Rhamnosus

L. Casei

L. Acidophilus

L. Plantarum

L. Bulgaricus

L. Salivarius

Bifidobacterium Bifidum

Streptoccocus Thermophilus

B. Longum

B. Breve
The bigger the variety, the better your digestive system is defended.  Vitamin Shoppe's Ultimate 10 Priobiotic is a very effective brand at a great price.
2) Grapefruit seed extract
Derived from fresh grapefruit seeds, studies have shown grapefruit seed extract to be a potent remedy against stomach bugs, because it helps to break down the protective coating of the viral cells.  It comes in pill and liquid form (the liquid can be put in  juice for children who don't swallow pills yet).  With few side effects reported, this natural remedy is great to have on hand when stomach bugs strike to shorten the duration of the virus.  It's also great to take if you've been around someone who is sick to prevent getting the bug.  For just a few dollars, this is one remedy you'll want to keep on hand!  One to try – Vitamin Shoppe's Grapefruit Seed Extract.
3) Oil of Oregano
Who knew that this herb known for adding flavor to Italian dishes is such a powerful weapon against stomach bugs? Similar to grapefruit seed extract, the active substance in oregano, known as carvacrol, has been shown to break down the outer layer of that winter "bug".  One study even showed the oil inactivated the bug within one hour of exposure!  This safe and effective remedy can be used alone or combined with grapefruit seed extract for a double whammy against bugs.  Try Super Strength Oil of Oregano.
4) Activated Charcoal
This has become one of my favorite remedies for stomach woes.  I have even used it to successfully treat serious stomach pains and nausea after accidentally eating gluten.  Activated charcoal has been used for hundreds of years to treat various stomach ailments.  It was used particularly for the treatment of ingested poisons or toxins, because it absorbs them before they can harm the body.  And yes, that applies to stomach bugs as well.  Sometimes several doses need to be taken before vomiting subsides, but it will eventually "kick in" and shorten the duration of the bug.  If administering to children, you can break open a capsule and mix it with coconut water in a non-see through sippy cup (they would probably be turned off by the black color), and have them slowly sip it.  I like Nature's Way Activated Charcoal.  For just a few dollars a bottle, this super safe and effective remedy is a mainstay in our medicine cabinet.
5) Coconut Water
Coconut water has been dubbed, "nature's Gatorade", and it is a wonderful source of natural electrolytes.  Unlike Gatorade or Pedialyte, it does not contain artificial colors, flavors, or high fructose corn syrup.  The best brands are simply pure water taken straight from the coconut and are full of:
Potassium

Magnesium

B vitamins

Vitamin C

Enzymes
These are the very things that need to be replenished in your body when you have a stomach bug.  Staying hydrated is crucial when battling a stomach bug, so having chilled coconut water to sip slowly can help replenish your body after fluids have been lost.  I love the Vita Coco brand as it comes in a variety of natural flavors and is quite delicious.  Zico is another great brand.  Both can be found at most grocery stores.
Hopefully the stomach bug won't hit your house this season, but if it does, you can stock your medicine cabinets and pantry with these safe, effective, and inexpensive remedies that will have you and your family feeling better in no time.
Do you have a favorite natural remedy against the stomach bug? I'd love to hear about it!