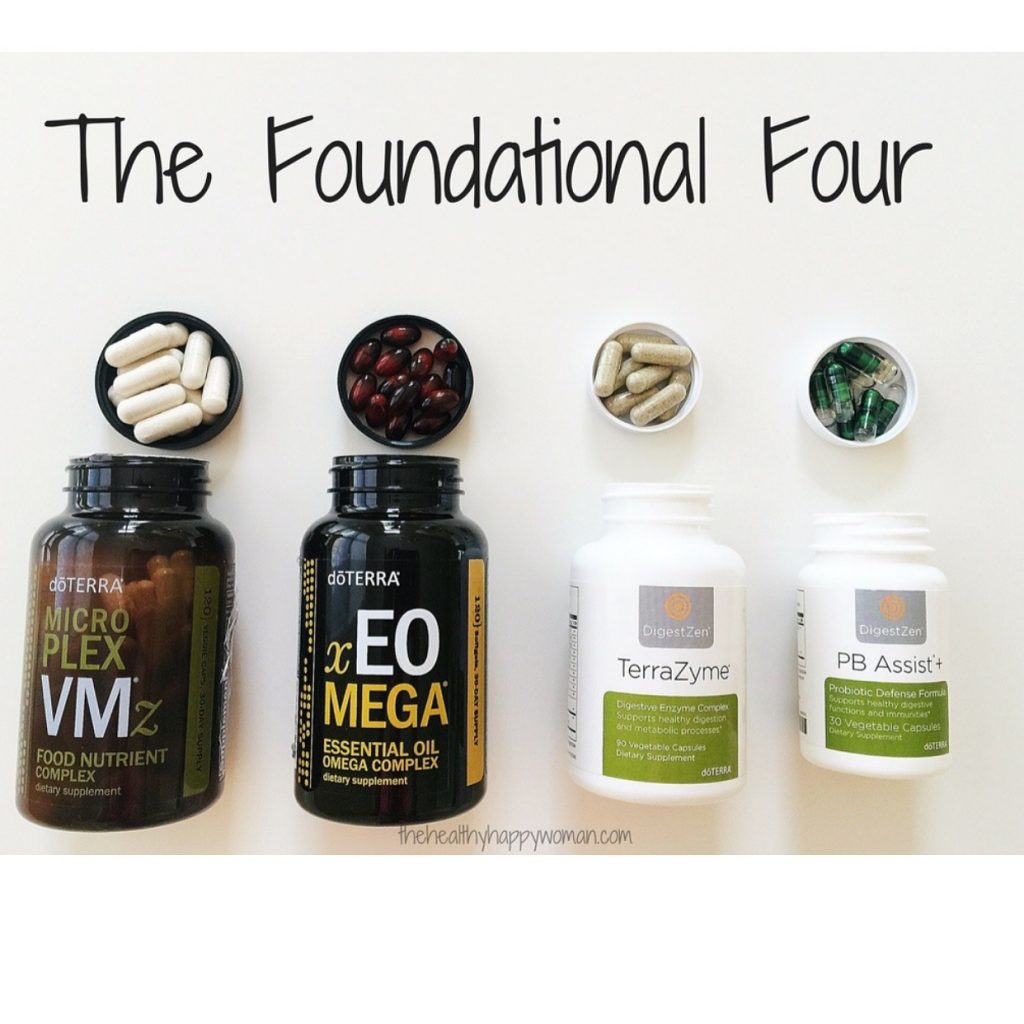 I thought it would be a good time to update my daily supplement regimen.  Being right in the middle of the busy holiday season, and with the new year right around the corner, it's more important than ever that I support my body with the right nutrients. The foundational nutrients have pretty much stayed the same.  However, I now use a different brand, and I've slightly tweaked what I call my Foundational Four (you can click on it to read my older post).
Here's a summary of each supplement I take and why I think it's so important (Note: each of these supplements is from the essential oil company, doTERRA):
MicroPlex VMz
This is a potent multivitamin that has optimal doses of nutrients in their bioavailable, food-based form. What really sets doTERRA's multi apart from other brands is the fact that they contain their proprietary blend of essential oils, such as ginger, peppermint, and caraway to help support healthy digestion. And these are gentle on the stomach, so you can even take them without food. I have felt so much more energy taking these!  The difference between these and the other brand that I used to use is quite noticeable.  I love these!
xEO Mega  
This fatty acid complex offers a wide range of omega 3 fatty acids, such as DHA, EPA, and ALA, which are so important for heart, brain, joint, and skin health. What I love about these compared to other brands is the inclusion of Vitamin D3, astaxanthin, and a proprietary blend of doTERRA's Certified Pure Therapeutic Grade oils (which include powerhouses Clove, Frankincense (which I'll be doing a post on soon!), Thyme and Cumin). This supplement is such an important part of any regimen, and I recommend that people of all ages take an Omega supplement! They are so important for combating inflammation in the body. They're amazing!
TerraZyme Digestive Enzyme Complex
The saying "You are what you eat" is only partly true. It's actually more like, "You are what you digest." As we age, the enzymes that our bodies produce start to decrease. That's why having a whole food enzyme to help support and strengthen the body's digestive enzymes is a must for absorbing necessary nutrients from food! These enzymes will help to break down fats, proteins, carbohydrates, sugars, and even gluten!  Your body expends so much energy trying to digest food every day.  Think of a digestive enzyme as giving your body a break from all that hard work.  With help from digestive enzymes, your body can use that energy elsewhere (which is why so many people report feeling less bloated and more energetic when taking enzymes!). I try to make sure and always have some with me, especially when eating out at restaurants. You will definitely love these and your digestive system will thank you for them!
PB Assist Probiotic Defense Formula
Think of this supplement as TerraZyme's best friend. In addition to digestive enzymes, probiotics are a boon for boosting your immunity and offering full body support. PB Assist contains 6 billion CFUs of active probiotic cultures in a time-release double-encapsulated delivery system to ensure they get where they need to go! These will go a long way in helping to establish healthy gut flora by populating your gut with healthy bacteria.  Probiotics help to combat seasonal bugs, support better elimination, and help strengthen all the body's systems.
I love my supplement organizer from Amazon.  Having my weekly/daily supplement organizer has been a game changer for me!  I 💗 having compartments for morning, noon, evening, and bedtime, because I do take different supplements at different times. If I know I'm going to be out for the day, I can just throw that day's box in my purse and I'm all set. It takes all of 5 minutes to organize everything for the week!
Again, these are the Foundational Four supplements that I recommend every person take on a daily basis for overall health and energy. I can't think of anyone that these would not benefit!  Contact me to order or visit my How to Order page for more info!