Hopefully you've been following our New Year New You Series and have had a chance to read about habit #1 and habit #2.
Notice I keep using the word 'habit' in these posts.
A healthy life is about the habits we consistently practice each day.  And remember, how we spend our days is how we spend our lives.
So our habits matter!
Another habit I practice every day is taking supplements.  You can read all about the supplements I currently take and how to get them here. The video below does a fabulous job explaining what sets these supplements apart from other brands!
There are numerous studies showing the benefits of a daily supplement regimen and how people who have one experience better overall health.  Combined with a healthy diet, supplements can:
Help prevent diseases

Boost your energy

Support a healthy immune system

Fill in nutritional gaps that you may not be getting from diet alone

Give you healthy skin, hair, and nails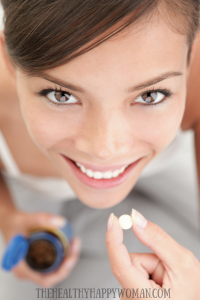 I space my supplements throughout the day, focusing on my multivitamin, omega, antioxidants, and enzymes at breakfast and lunch.  At bedtime, I take my probiotic, magnesium, and additional enzymes (to help my digestive system even while I sleep!).  I keep my daytime supplements in the kitchen in my handy organizer, and my bedtime supplements on my nightstand.

The habit of taking your supplements every day can have a huge impact on your health, particularly when they are high quality, therapeutic grade supplements, like the ones mentioned above.  To order these amazing supplements, click here.
If you're ready to upgrade your supplements and get on a daily routine, make sure to subscribe and download the companion printable ebook for our series.  In it, you'll find pages where you can write out your health concerns, health goals, and your daily supplement routine.  It's perfect for helping you put these healthy habits into practice!